In a sport like badminton, technique has a vital role to play. Try these five key techniques, tested and approved by Peter Zauner, badminton coach and former professional player (men's doubles ranking: 22) to improve your game:
●    Observation and drill
●    Moving and returning
●    Additional exercises and physical activities
●    Varied matches and player types
●    Keeping a training log or hiring a coach
Badminton is a great sport to work on your speed, focus, and technique – all at the same time. When it comes to improving your technique, Peter says it is important to observe your opponents and partners and practice your shots and moves. For even more ways to hone and develop your technique, check out his exclusive exercises at end of this article.
1.    Observation and drill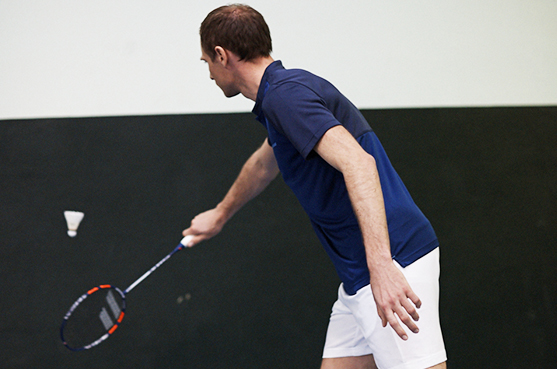 Observation and drill techniques have gained a lot of ground in Europe recently, especially in France. Shadow play is when a player simulates footwork and shots without a shuttle. It's one of the basic tools in the badminton training kit and most players swear by it. For the best results, scale up the intensity and frequency of these training sessions as you go along.
Peter Zauner, who has visited Asia on multiple occasions, has been able to observe how his players and Asian players differ in their technique: "Asian players always do 8 to 12 drills as part of their training programmes –  much more than we do".
According to Peter, the best way to learn a new technique is to observe a player and then repeat his or her moves immediately. If you are unable to shadow a really good player in your club, watch videos of professional players and practice their moves when you get back on court. Observation and drill are also really important for your body: when you watch a video of a shot, from every angle, it is easier to memorize and easier to reproduce.
2.    Moving and returning
For Peter, there are two types of badminton technique: "holding and running".
Always start by working on your hold. The way you grip a racket impacts your game, so once you are completely comfortable with your technique and return your shuttles like a pro, move on to the next technique!
"It's really important to perfect your footwork from the start," says Peter. "It helps you position yourself for great shots."
Peter says that running is a big part of training in Asia where "all players start their training with footwork – and they know how important it is." Although the player culture is different in Europe, with a greater focus on smash shots, never underestimate running, especially when it comes to movement and footwork during shadow play and lunges.
3.    Additional exercises and physical activities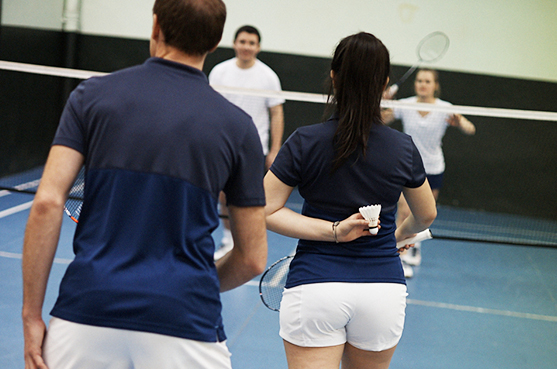 Apart from drills, Peter recommends other techniques to try depending on which skill you hope to improve.
–    Improve your hold, particularly your hand movements, using a fairly heavy badminton (or squash) racket and try to hit and return several shuttles. This exercise will work all your hand muscles and force you to pay attention to the moves you make (smash, backhand, etc.).
–    Improve your running technique using special badminton moves such as chassé steps, lunges, or shadow play. Take the exercise to the next level with the "ABC Athletic Training Programmes". These training sessions help build your running skills and work on your knee raises, thigh movements, and propulsion.
4.    Varied matches, player types, and sports 
According to Peter, to prepare for any eventuality, it's important to play in different type of matches against different types of players: "Play against attacking, defensive, and versatile players to familiarize yourself with these various types of players." If you are right-handed, it's best to play against a left-handed opponent, since their technique will be completely different to yours. If you are left-handed, the same rules applies – only the other way around!
Mixed-hand doubles are often the best combinations, says Peter. "The best pairs are often made up of a right-handed and a left-handed player. They are a much bigger threat than other pairs and generally better at attack."
Since variety is the spice of life, Peter also suggests practicing other sports – as long as they don't interfere with your technique.
–    Cycling is great for your joints. "Badminton is a high-pressure sport, so sometimes it's good to do low-impact exercises."
–    Running. When you play less badminton, during the summer, for example, Peter suggests a running schedule. Running is another high-impact sport, so try to avoid doing both in high doses.
–    Swimming is perfect for relaxing and letting off steam. But since the body goes into recovery mode after swimming try not to swim before a major competition or match.
5.    Keeping a training log or hiring a coach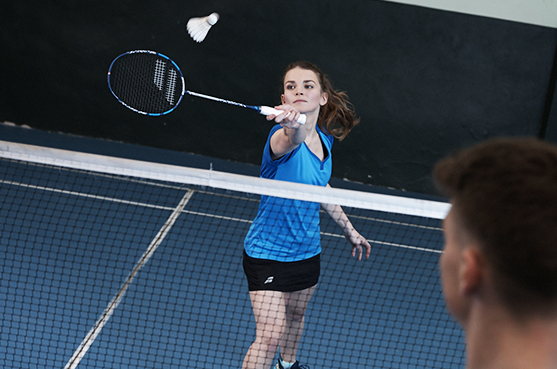 In badminton, it's important to take the same flexible approach to your training plan as to your game plan.
When you're training, don't hesitate to change your plan again and again. "Plans are not set in stone. Sometimes you need to make last-minute changes, because of an unforeseen event, player fatigue, or equipment problems," says Peter.
During a competition, change your style as soon as possible to adapt to your opponent and playing conditions. If your opponent understands your game plan, change it. It is best to have two or three in mind – and even more if necessary. Bear in mind that in high-level competitions you may have to change your game plan "every five points or even every point". During amateur competitions, it helps prevent your opponent from guessing your strategy.
If you're lucky enough to have a coach in your club, Peter suggests giving them a try – they've got a lot of great advice to share. There are many different options in badminton clubs and on the internet. Whenever possible, mix practice and theory, videos, and training sessions, to steadily improve your game as you practice.
As you can see, there are lots of different ways to improve your badminton technique. Take time to observe and drill key movements and positions. Make sure you control your footwork to streamline your return to the base position after every shot. Practice a few extra activities and exercises to steadily grow your potential. Vary your matches and the type of players you compete against. Lastly, keep a training log to track your progress and, if you're really lucky, make the most of your coach's expertise!