Thanasi Kokkinakis is one of the nicest, most easy-going and eloquent athletes in world sport. And there's a problem in that – one he freely recognises.
"If you want to get to the top, you can't be too relaxed or too good to hang around with," he says, "but there's a correct balance. Maybe I haven't got it right at times, but too strict doesn't work for me. If I'm too focused and too serious all the time I struggle, so I need to be my own person and show my personality, but still keep the right focus. I think I'm getting there."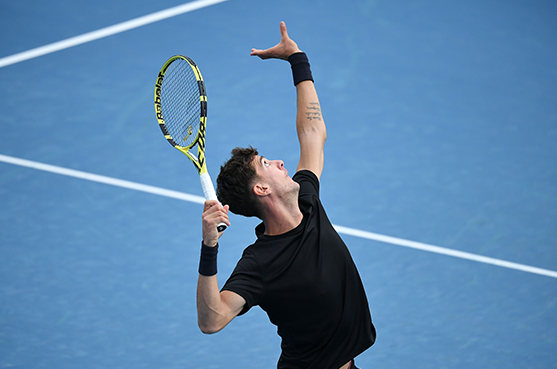 Long hailed as one of the most promising players, Kokkinakis was spotted at age 12 by Babolat's Sport Marketing Manager, Seth McKinley at the Eddie Herr championships, one of the world's premier junior tournaments. He had been playing about three years and was already using the Babolat racquet his dad had bought him.
McKinley remembers the day well. "Thanasi was playing on the very last court back in the corner at the IMG Academy," he recalls. "I saw this 12-year old kid serving and volleying, which is very rare at that age, and stayed to watch. I was so impressed with how aggressive he played and how he carried himself on court for such a young player. About 10 days later we signed his first Babolat contract at the Orange Bowl, and he has been with us ever since."
Head-to-toe injuries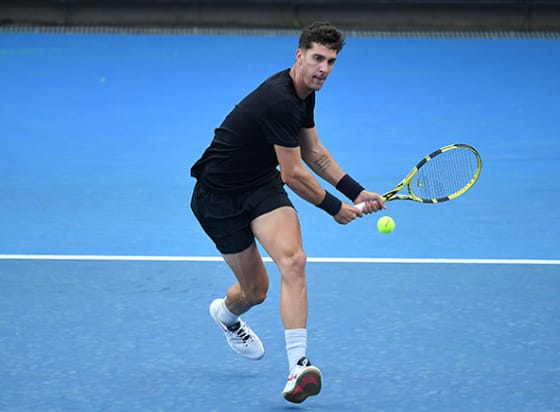 The pandemic then hindered his ability to play tournaments and build up fitness and match toughness, because Australia's strict immigration rules made it hard for him to leave his country and even harder to get back in. But in the first half of 2021, the hard work started to pay off. He won a round at the Australian Open before taking Stefanos Tsitsipas to five sets. He then went abroad to play a string of clay tournaments, posting gradually improving results which culminated in winning the Challenger event in Biella, Italy.
"Because of the injuries I've never played a full schedule," he says, "so I don't know how good I can be. The thing for me is not to get too high and not to get too low. I feel I'm putting in the work, and the results are starting to come, but I need to keep working and hope the breakthrough isn't far away."
Part of that work is a more focused approach to making his body stronger, so he doesn't suffer more injury setbacks. After a run of fitness coaches, he is now working with Jona Segal, whose day job is with the Australian Rules Football team North Melbourne. Segal writes programs for Kokkinakis and then uploads exercises and training modules to an app, with a video showing him how to do an exercise. It allows Kokkinakis to keep up his core fitness work while going from hotel bubble to hotel bubble.
Talking about the dark places
"I've started to find what works for me and what will keep me on court for longer," he says. "I'm beginning to know what I have to do. I've grown physically and mentally through those experiences, so I'm now being a bit smarter about gym work, knowing my body better."
But it's the mental growth with which Kokkinakis has most impressed the tennis world. Having put so much into his tennis, to suffer head-to-toe injuries left him at times in a very dark place. He kept most of his thoughts and feelings to himself, but in a radio interview at the 2021 Australian Open he touched on the mental health issues he had battled. Having noted the positive response, he had the confidence to speak more expansively about the low periods he went through in a podcast that came out just after the tournament.
"I got a lot of positive feedback from that podcast," Kokkinakis says. "Many people said they could relate to it. Maybe some people don't go through it but most people do. For me it was a dark place to be. I'd told the story to family members but never to the public, so when I felt I could reach more people with a bigger platform, I thought I should go for it. It's been a good thing to do – a couple of players came to me in Miami said they didn't know about my struggles and thanked me for sharing. If it only helps one person, it's been worth doing."
The problem is that experiencing the darker side of life, and coming through it, risks diminishing a competitor's edge. "It can take away the motivation," Kokkinakis admits, "but when you go back on court, you throw all that stuff out of the window. Tennis is either a good distraction or a bad one, I don't know! But it's simplified my goals. I want to reach my full potential – I just don't yet know what that is. Hopefully pretty high. I want to leave tennis with no regrets."
All the work the Aussie is putting in now is for that moment when suddenly he gets a lucky break and his results explode. Kokkinakis continues to be patient, but primed: "You never know when it's going to be your week, but I'll be ready."