Whether you play singles or doubles, you're never really alone in badminton, especially since your coach or a supporter can easily stand in as your partner if you don't have one. Julien Fuchs, head of the Pôle Espoir Badminton in Strasbourg and an ASPTTS foundation captain, explains the four main reasons for badminton's strong team spirit:
• Close contact with other enthusiasts
• Strong values specific to badminton
• The thrill of playing a team sport
• Coaching and advice for partners 
Everyone agrees that badminton is a social sport and, unlike other racket sports like tennis or squash, players rapidly feel like members of a team. Badminton can be both an individual sport and a team sport, depending on how you play and what you want to achieve.
1.    Togetherness: spending time with other enthusiasts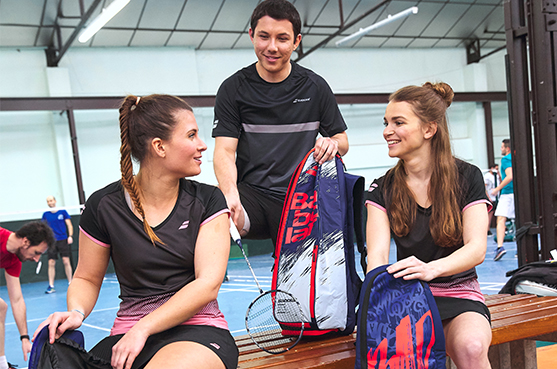 Badminton has a strong community component, and in many French clubs, members often refer to each other as their "family". A lot of players, especially those who play for pleasure, enjoy the friendly atmosphere and social network that comes with the game.
"The team-match dimension is also really important in badminton," says Julien, and this is what many people look for when they join a club. It's a great opportunity, in a relaxed setting, to meet other players who share the same passion for the game.
As you already know, badminton clubs with big memberships are a hive of social activity. You're bound to find what you're looking for, at a level to suit you, your goals and needs, whether you're an amateur or a seasoned player, including "single, double or mixed courses, advanced lessons, and even one-off activities," adds Julien.
2.    Team spirit: badminton's key strength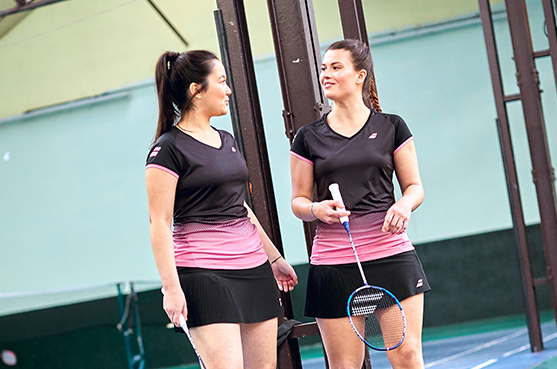 One of the biggest bonuses for badminton players is the game's strong team spirit. Team competitions play a central role in badminton, not only nationally and internationally, but also at club level, where championships can last an entire season. "Team competitions are big in badminton: we have the European U15, U17, and junior championships, etc., and at senior level there is also a competition for men, the Thomas Cup, for women, the Uber Cup, and the mixed Sudirman Cup."
There's no better way to develop your team spirit than badminton, both on and off court. In fact, the special values that attract us to the sport – listening, sharing, caring, and support – impact our lives in ways other team sports do not.
And there's nothing like fun times and friendly events to inject a little team spirit into a club. Members now often benefit from "mini-courses at weekends, badminton lessons, and activities for players of all levels and ages, and even new concept events which are proving increasingly popular such as 'Badminton Black Night' where players wear fluorescent paint to play badminton in the dark, 'Bad Girl' women-only events, and 'The 24 hours of badminton'," say Julien.
3.    The joy of badminton: team playing 
If you have the opportunity to join a club team, you're in for a big adventure – especially on a personal level. For many players, club life is a gateway to all sorts of activities. "Beside the game itself, the contracts, and the support it gives them in their top-level careers, some players feel a real connection with their club. They really get involved and sometimes help organise training, and even coach other teams".
Clubs strengthen ties with and between players, and people regularly form bonds that go beyond the game. Often players are deeply committed to their clubs – on all sorts of levels. In fact, being part of a team is about more than "just playing". For Julien, mutual support is the key, and this can take the form of "being there to encourage a player you feel close to, providing assistance during training sessions, organising warm-up sessions, or coaching".
Sometimes you also have to overcome your frustration, because when you're selected for a match, you don't always get to take part. The "bench culture" is not as deeply entrenched in badminton as it is in football, for example. If a player is not selected, he or she may find it more difficult to deal with their frustration. "It is difficult to put together a team in badminton because you have to make choices. You need to make clear that players are not entitled to play: you are in competition with each other and even when you're selected, you're not guaranteed a role in the game."
4.    Coaching: advising partners and giving them a boost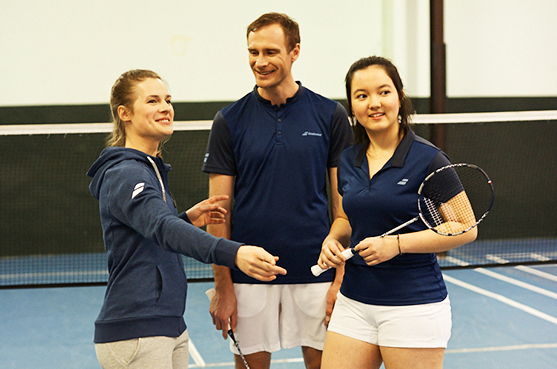 How do you help your partners perform better? The more you know about your partner, the more beneficial coaching gets. The most important factor is to build a strong relationship based on sharing and trust: "I can't believe my eyes when, at some tournaments, I see players coached by people they don't know! You have to know each other very well to develop a strong relationship and to understand how the player reacts, and how the coach reacts".
Each player has his or her own playing style. Some are very expressive on court, while others are calmer and more composed. It's all about communication. Different personalities require different types of coaching: "I might see the coach of the world number one, who's really calm, and then the coach of the world number three, who gets to his feet every time the player scores a point, and shouts to boost the player's morale. I think it's all down to the individual. You need to adapt to the behaviour and character of the player and above all stay natural."
Becoming a coach is often a vocation: some have a flair for it, and really enjoy it, while others get less out of it. But the most important factor in sharing advice with a partner is experience. If you've already been given advice by other coaches or team captains, it's easier to pass it on to others. Julien's advice for perfect coaching? "Limit yourself to one or two tips. Always be positive and never talk about previous points."
Whether you play badminton as an individual or as a team, the group spirit is strongly rooted in badminton and makes the game what it is. It gives players the opportunity to create new bonds with people who share the same passion, and above all, develop qualities essential to the game, which they can use in other areas of their daily or professional lives.