Peter Zauner, badminton coach and former professional player (men's doubles ranking: 22) was introduced to badminton by his brother. We asked him the following three questions:
●    What are the benefits of playing badminton?
●    Why play in a club?
●    How can you motivate your friends and/or colleagues to play sports?
An outlet to let off steam, a welcome break in your weekly routine, and a chance to get together with friends: sport can be a fun personal experience – and one to share. Peter explains some of the many advantages of playing a group sport like badminton, and how to motivate colleagues and friends to play with you.
1.    What are the benefits of playing badminton?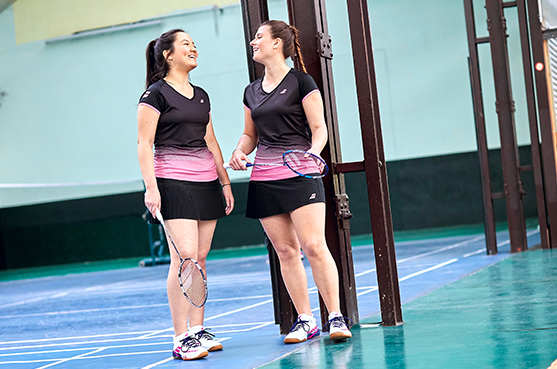 Badminton is an ideal sport for all kinds of people. According to Peter, it is very rare new players encounter problems when they first pick up the racket. "I trained amateur players for almost a decade and nearly everyone managed to return the shuttle". The badminton learning curve is steep: you can start rallying within minutes – which is one reason people love it so much!
The perfect sport for sharing and getting together as a group for friendly knockabouts or competitions, badminton is an opportunity to chat, learn, grow, and have fun. Peter says there's a real culture of experience-sharing in badminton. This is true of many clubs, especially in Denmark, where once a week "national team players train at their home club and help amateurs up their game."
But the benefits of sharing are not limited to amateur players: it's great for professional players too! In Asia, for example, many pros train regularly with amateur players.  It is a chance for them to let off steam, vary their training, socialize in the company of a new partner, and pass on their knowledge and techniques to other players.
Badminton is also just as easy to play indoors as outdoors, making it one of the most practical sports around. Another positive aspect of the sport for Peter is the possibility to play "Air Badminton". During the hot summer months, it's not always easy to play indoors. This is particularly true in Asia, where Air Badminton is widely practiced –  even at competition level: "We play in outdoor tournaments, and they even have special equipment, including courts and shuttles".
2.    What are the benefits of joining a club?
Badminton is an individual sport that can be played as a team – a big advantage, according to Peter.
Although there are lots of personal benefits, it's not all about the individual. Many badminton players enjoy another aspect of this sport – one which has much more to do with the team: "playing and winning together". As well as motivating players, it's more fun to share these moments with your team or teammate.
When you're playing badminton as a team sport, it is best to put together a team with players of all abilities. This promotes learning and development, especially during training sessions.
Peter has organised countless tournaments and training sessions where "professional players, the team leaders, were there to help amateurs, younger or just starting out in the game, to progress". A team spirit is not only fun, it also allows you to harness collective intelligence to improve your personal performance.
By thinking as a team, you put the group's interests above your own. For Peter, this can help you move forward in your training and enhance your competition performance, so you really enjoy the game: "If you play for yourself it's never much fun. Thinking more about your partner will allow you to get more out of it and enjoy yourself, so you'll be a much better player".
3.    How do you motivate your colleagues or friends to play badminton?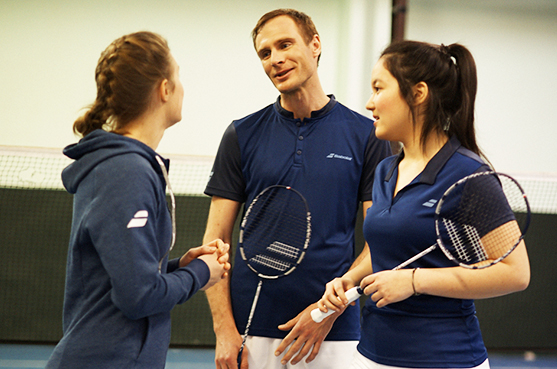 Peter recalls his first encounter with badminton. It was his brother, much older than him, who introduced him to the game. For Peter, there are two ways for an individual to practice badminton: you are either introduced to the game by friends or you play alone. "We tend to copy what our friends do, and since school sports are compulsory, badminton is often chosen because it is perfect for school."
To encourage your friends to play sports with you, include them in your badminton lessons or sessions. "We used to organise displays, events, and shows. We played in shopping malls and arranged friendlies against other countries. We reached out to the public to encourage them to give it a try".
Companies sometimes ask Peter to join their team-building sessions and other events. For him, badminton is always the right fit because it is so flexible, and you can organise a regular or occasional sports programme lasting a day or more.
Badminton is ideal because it allows you to create real social ties outside the workplace, based on a common experience and shared memories: "You learn together and discover your colleagues from a different angle. It's very good for group bonding and the team spirit".
Badminton players learn and develop at a fast pace. These two initial factors really motivate them and ensure they feel more fulfilled on court. Combined with sharing, transmission, and above all the practical aspects of the game, which can be played alone or with others, indoors or outdoors, it is the ideal sport for unparalleled playing pleasure.