Badminton can really boost your communication skills – especially if you're a doubles player. Julien Fuchs, Regional Training System Manager for the Grand Est region, explains the four key benefits of badminton for boosting your communication skills:
•    Linguistic and visual development
•    Preventing or defusing risky situations
•    Encouraging your partner and giving them a boost
•    Team-building 
As you know, badminton is a sport that demands as many physical and mental qualities as it does communication skills – especially if you play doubles. Verbal communication through sharing information and giving instructions, and visual communication based on sending clear signals can greatly improve your relationships and benefit you and your partner. 
1.    Linguistic and visual development:
It's important to boost your teammate's confidence and systematically use positive words to motivate him or her and play your role as a good partner. Get into the habit of making encouraging remarks to help them go the extra mile. After each point, whether you win it or not, Julien recommends "applauding each other, doing high-fives or simply sharing a word of encouragement."
You should also constantly communicate with your partner(s) before, during and after the game. Called "linguistic and visual development" this unbeatable technique is the soundest way to communicate with teammates. Practice clear signals and use them to coordinate your game strategy, prepare yourself from the start, and avoid making mistakes "when you get to the net or leave an open space for the opponent between you and your partner."
Julien remembers one of his best teammates, with whom he played multiple times in the first division:
"I played a lot with Chris Langridge, an English player and bronze medallist at the Rio Olympics in 2016. He was a real leader. He passed on a lot of experience and upped my game. This put me in a good place as a player and helped me improve my technique. He made me feel at my best and always warned me before he made a move or took a certain action. It was really easy to play with him, even against exceptionally good players."
2.    Preventing or defusing risky situations
Everyone has been in a situation that risks undermining the team spirit. Julien says we should always think ahead and plan a strategy for the next match: this helps you adapt the game to your strong and weak points and those of your opponents and partners, whether they find it "easier to play at the net, at the back of the court, on smashes, and so on."
As a coach or player, you've probably faced this kind of difficult situation before. The year Julien's mixed doubles team qualified for the finals of the European University Championships, "there were tensions on the team: my player never communicated with his teammate and every time she missed a point you could see he was frustrated – she got upset with her partner, lost trust in him, and didn't want to play with him anymore."
When this happens, we suggest moving swiftly to defuse the situation as soon as possible. Organising a chat between the players in question, for example, can help put matters straight. "It is also a good idea to film your matches," adds Julien, as the best way for players to understand their attitude or body language.
3.    Encouraging your partner and giving them a boost:
As everyone is different, it is best to adapt your comments – which should always be positive, by the way – to the situation, your partner, and their personality. Remember: your partner does not necessarily have the same needs as you. "During a match, some players need to be pushed on every point, and to really feel you're there, while others need to stay focused on the strategy in hand," says Julien.
As a coach, be supportive and encourage your players no matter what. This is slightly more complicated if you have to coach a pair of doubles players: "Sometimes you give one player advice and their partner is at the other end of the court. There's no point in doing that. You always have to communicate with both." Stick to one or two pieces of advice, because when a player is stressed, they find it difficult to digest more than two comments at a time. This also allows you to focus on what really matters.
As you may already have noticed, frustrated players tend to find it more difficult to hide their emotions when they are stressed or losing. This is when you need to support your partner or player and calm them down. If you're losing, let the point pass, and refocus on your strategy and the points to come.
4.    Team-building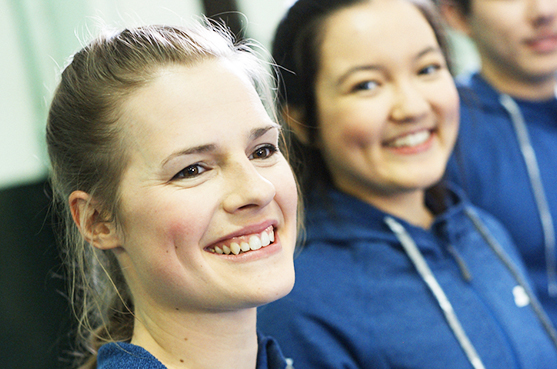 There is no big secret to team-building – just have fun! Organise activities outside of badminton and games that challenge players or teammates, who will then help to motivate and unite your group and create a real team spirit. "Enjoying an adventure together can really help a group to bond."
Julien recently took some young players from his centre on a training trip to Reunion Island. He chose canyoning, a sport that is both thrilling and, for "some of the players, terrifying – they couldn't abseil at all." This kind of adventure can bring a group much close together and foster a sense of togetherness, and mutual encouragement and support.
So, when we tell you communication is the cure for all ills – we mean it! Whether it is visual or verbal or comes in the form of prep talks between teammates, or players and coaches, it is a great way to get your information and feelings across. But remember: stay positive to encourage your partners, reassure them, and together push your personal limits, no matter what difficulties lie ahead.