At 20, Babolat ambassador Hongyan Pi was told by her coaches that she was too small to play internationally. Not only did she prove them wrong, but in coaching some of France's best juniors today, she encourages players to show that height isn't everything.
Once an athlete, always an athlete – even if the only matches you can play are in your mind.
Hongyan Pi, who retired from international badminton in 2012, continued to compete at the club level in France until last year, when a recurring knee problem forced her to stop. But even as a respected coach, she says she still thinks like a player.
'I wouldn't say I'm a good spectator,' Hongyan admits. 'When I watch a badminton match today I'm always analysing. I want to work out a player's strengths and weaknesses, analyse what their strategy is. When I watch a tennis match I can enjoy it as a spectator, but when I watch a badminton match I want to analyse it all the time.'
Hongyan's analytical mind reflects what she was like as a player, because she always had to rely on her intelligence rather than her physical prowess. At 20 she was dropped from China's national training squad because she was considered too small at just 1.64m (5ft 4in).
That led to her moving to Europe, initially to Denmark where she was playing when Babolat became her main sponsor in 2001. The partnership has remained strong ever since.  'I've grown along with the brand,' Hongyan says. 'I've witnessed the growth of the name of Babolat in the world of badminton.'
At the end of 2003, she moved to France, when she accepted an invitation to become a member of the French national team. Although her coach in China had not believed in her, she went on to reach No. 2 in the world rankings and win a number of titles, as well as medals at European and world championships.
Given her size, Hongyan always had to out-think her opponents and rely on her athleticism and defensive strengths. She is pleased that coaches now put less of an emphasis on strength and stature than they did when she was learning the game.
'When you look at the best badminton players in the world today, you see all sorts who are successful, players with all sorts of different games,' she says. 'You have girls who stand only 1.54m who have become world champions.'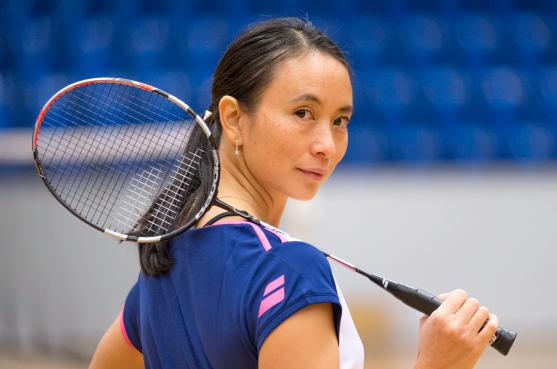 'Today there are some players who are very good technically, others who are very powerful, others who are great tacticians and others who cover the court really well. It makes it very hard to know who is going to win matches. When an attacking player meets a defensive player, for example, you don't know who is going to win. What pleases me is that there is a variety of different game styles, which I think makes it more interesting for spectators.'
Hongyan, who is now 41, says that being told at 20 that she did not have a future at the highest level had a very damaging effect on her morale for many months afterwards. 'I thought my career was over,' she recalls. 'I was very dispirited and I thought about giving up badminton. For a year I could hardly win a match. I didn't have any motivation.'
That personal experience has led Hongyan to ensure she always remains positive when she helps coach the French junior team.  'When you're working with young players I think it's very important for a coach to always be constructive and encouraging, because otherwise you can destroy their morale,' she says.
'I try to be positive with all of them, even if I think that some girls have more potential than others. You try to motivate them all because they're still young and you just don't know what will happen to them in years to come. You need to try to help them all to be the best they can be.'
Does Hongyan herself miss playing? 'Yes, a little bit. Sometimes I dream of training again, of competing again. I still enjoy the feeling of picking up a racquet. But I know that for the sake of my body it was the right decision to stop.'