"When it happens, I'll be ready for it." The words of Jennifer Brady today after her first ever Grand Slam final in which she lost to Naomi Osaka at the Australian Open.
Note the 'when'. Brady fell short partly as a result of inexperience, but she was clear that the fortnight in Melbourne – or more specifically the five weeks since she arrived to go into 14 days of hard quarantine without practice because someone on her flight had tested positive for Covid-19 – has left her with the conviction that she can be comfortable at the top.
"I think I belong at this level," she said less than an hour after coming off court. "I think winning a Grand Slam is totally achievable, it's within reach. Obviously I was nervous, and it didn't go my way today, but at the same time, coming off court I felt 'OK, that feels a little bit normal,' it felt different than what I was expecting. If you'd asked me a year ago, I wouldn't think it would feel normal – the idea that I'd feel OK in a Grand Slam final would be like going to Mars."
Brady's childhood is the story of a talented youngster who took a while to share the same confidence in herself that her coaches had in her. Raised in Harrisburg, Pennsylvania, she moved to Florida to train at the Chris Evert Academy.
"All the coaches I had there were always telling me I had potential to be a great tennis player," she says. "But I needed to just find my game. I had a bit of a temper as a kid, wasn't really mentally the toughest. So the big shift in my whole career has been being able to stay tough in tough moments, close out tough matches, and just fight my way back regardless of the score."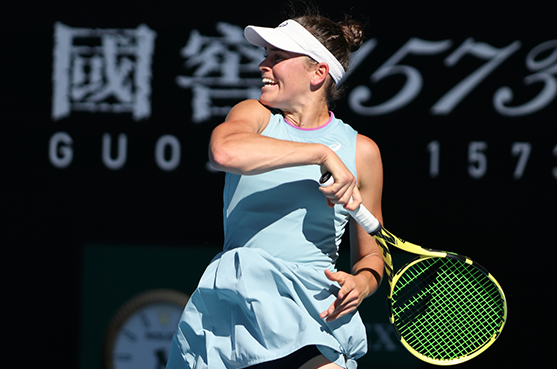 Brady was scouted by Babolat at a 12-and-under claycourt tournament. She didn't have a particularly high junior ranking, but Seth McKinley, then Babolat's US Sports Marketing Manager, was one of those who believed in Brady's potential, and took the unusual step (given her modest ranking) of offering the 12-year-old a full Babolat sponsorship. She has been playing with Babolat racquets ever since, and used the Pure Aero for her runs to the 2020 US Open semi-finals and the 2021 Australian Open final.
Like many players these days, Brady came through the college route, although she talks rather sheepishly about her student days. She enrolled at UCLA, spending nearly two years there, but never declared a major subject so spent all her university time on general subjects.
She had a breakout run to the fourth round of the 2017 Australian Open, but towards the end of 2019 decided she needed to go beyond her comfort zone. So she teamed up with the German coach Michael Geserer, who was based in Regensburg in southern Germany. And she agreed to spend her pre-season time there. Compared with the sunshine of Florida which she was used to, Bavarian winters can be bleak – they are notable for the skiing season, and the strongly Roman Catholic culture can sometimes be hard going for a fun-loving American youngster.
But working with Geserer and the fitness coach Daniel Pohl took Brady to a new level. "Obviously we're doing something good, something special," she says, "clearly since I started working with both of them my ranking has only gone up. I have always had the strokes, but it's more just putting it all together and making it more solid, and repeatable in every single match. Kudos to them for pushing me day-in, day-out."
Brady admits it took her until last year for her really to believe all the confidence her junior coaches had shown in her. She won the first American tournament after the five-month break in the tennis tour caused by the coronavirus pandemic, and then reached her first Grand Slam semi-final, taking Osaka to three sets. Now she has reached her first major final she is convinced she knows what it takes to reach the top.
"I just have to keep improving on my skills, on my game," she said after the Australian Open final, "so that when I come to these moments I don't have to play great tennis. I just have to play good enough to win."
Note the 'when', not the 'if'.