Do you know how many results appear when you type the word "padel" into a search engine? Over 82 million. Now that's a lot of results, especially considering that padel is a relatively new sport, just turning 60 years old. Padel has clearly been leaving its mark on the history of world sport ever since it began, with people from all walks of life catching the padel bug.
 To try it is to love it. But what is it that makes padel so special?
Padel is a great workout that's fun, social, accessible, and challenging all at once. It's a lifestyle that doesn't differentiate between sexes, ages, or levels. Players of other racquet sports can easily understand and play padel because it features the same movements and strokes as tennis, squash, and badminton.
Padel has the potential to bring people together and create a community where you always feel welcome, right from the first time you pick up a racquet and step out onto the court. And once you're out there, there's no going back: you're a padel player now.
Padel increases physical fitness levels by toning the body and strengthening the heart (as an anaerobic sport). It also improves coordination and reflexes. Each time you play, you'll get better and be able to feel yourself improving.
Padel also has numerous benefits for mental health. It reduces stress and anxiety, increases confidence and self-assurance, while providing a good opportunity to socialise. It's the perfect sport for anyone and everyone to practice.
And once the game is over, the other part of padel begins off the court. It's time to leave the racquets, balls and competitive spirit behind, grab a drink or snack while you discuss the game, vent about a stressful workday or debate what's going on in the world. It's a moment to disconnect, unwind, and enjoy yourself. It's a moment for connecting with your friends, acquaintances, padel community, and team. The padel spirit is one of physical, mental, and emotional balance that makes you want to go back the next day.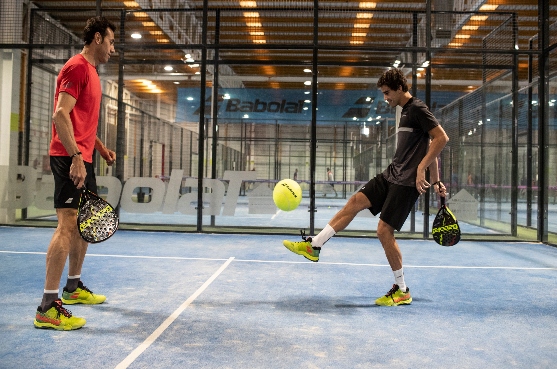 There are 3 phases of padel.
The prep phase: Your phone starts pinging away with WhatsApp from your padel group. You get to the locker room and change out of your everyday clothes into your padel kit. You've flicked the switch: you're no longer a worker – you're a padel player.
The game: This is where you give it all you've got. There are no friends on the court and no balls you let pass. But at the end of the day, even if you lose, you leave with a smile on your face.
Post-match: Grab an ice-cold drink and a snack to recuperate, chat about the game and book a court for the next session. Now you're ready for whatever tomorrow brings.
So padel is here to stay. But how did it come about?
It's not known exactly where padel originated, as there are several stories in circulation. The most popular story these days is that padel was invented in Mexico in the 1960s by a man called Enrique Corcuera. He modified a pelota court he had at home by adding a wall and a net. And just like that, the game of padel was born
Others claim that padel began on transatlantic liners that transported tennis players from America to Europe to play tournaments. Because the crossing took so long, they had to find a way to keep training. The main problem was that balls kept falling into the water, so the players mounted a wall around the court to prevent this from happening.
It is estimated that there are 25,000 padel courts in the world, counting those belonging to clubs, residential areas, schools, and hotels. The game goes far beyond the world of competitive sports. According to one study, in 2018 around 5 million people tried padel. It's now practised across 5 continents.
At Babolat, we just keep finding more reasons to love padel. We know there's a padel player in every one of us. Have you discovered yours yet?