Babolat's flagship padel shoe has been completely updated to create a model that is more robust, more flexible and with a greatly improved grip. 
It is no coincidence that the Jet Premura has been named the 2019 and 2020 Best Padel Shoe. Babolat has designed this model exclusively for padel players to provide both comfort and agility. Created at the end of 2019, the Jet Premura has positioned itself as the ideal shoe for padel players looking for safety and speed with every point of the game.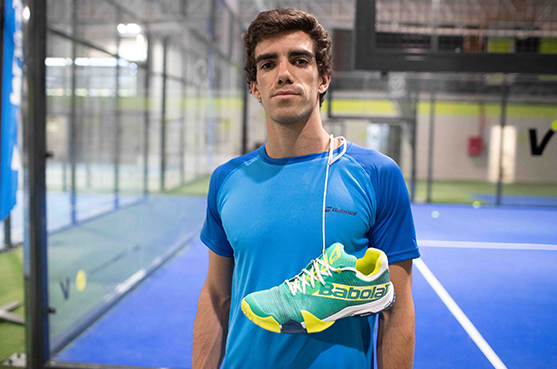 Now lighter, more flexible and more durable
As part of the 2021 redesign, the Jet Premura has cut its weight by 5g, down to just 320 grams.
The Michelin sole is designed and developed specifically for padel, to make it more flexible and elastic, while providing safety in every movement the player makes on court. The 360° FLEX studs are specially designed for sharp turns on any type of court, thus preventing joint and/or muscle injuries.
The Matryx 2.0® material has been reinforced with 4 bands of rigid fibers (the "Stability Arch" system), offering greater resistance to abrasion, as well as optimal support and stability and flexibility to the forefoot.
The new Jet Premura will help padel players change direction more easily, as well as increasing their speed, agility and efficiency on the court. This is why it is the model chosen by the number 1 pro tour player, Juan Lebron.
The new Jet Premura is now available from Babolat's website for €150 RRP.