The world's greatest tennis players will meet on the clay courts of Roland Garros next week to compete in the second grand slam of the year. Nearly eighty of the players use equipment from the French brand Babolat, one of the world's leading tennis suppliers.
Babolat has been providing the majority of these players racquets, strings, bags, and for some, shoes and apparel since childhood helping them reach their peak performance.
From the defending champion, Rafael Nadal who is bidding for a record 21st Grand Slam crown, to the latest generation of professional players, including the Canadian Felix Auger-Aliassime, the Spaniard Carlos Alcaraz, and the Frenchman Arthur Cazaux, and challengers including Dominic Thiem (AT), Sofia Kenin (US) and Garbiñe Muguruza (ES), the players are determined to give it their best for a place in the final and a shot at the trophy.
Babolat's racquet customization team play a vital role on the road to victory. Throughout the season, from tournament to tournament, they make sure all racquets used by champions are true to spec and strictly identical to avoid disrupting players' rhythm during matches. They also listen carefully to the needs of players to modify specs when necessary. "Our experts have a unique and in-depth understanding of each player on the professional team. Because the team provides players with regular support throughout the year and work extremely closely with them, they master even the slightest adjustment to their equipment", says Jean-Christophe Verborg, Global Sports Marketing Tennis Director at Babolat.
Pure Aero – Optimized spin
The Pure Aero is a racquet specially adapted for extreme spin. Featuring the world's first aerodynamic frame, it was designed to promote a powerful lift that supports offensive gameplay and pushes opponents back behind the baseline. One Babolat Pure Aero racquet is sold every two minutes around the world!
Pure Aero Rafa – The signature racquet
This racquet has exactly the same specs as the Pure Aero with an exclusive cosmetic version to match the personality and unparalleled gameplay of the Spanish champion. Rafa won his 20th Grand Slam in 2020 at the French Open using this model, as well as his recent tournament victories in Barcelona and Rome. Rafa uses Babolat RPM Blast 135/15 gauge strings.
Pure Drive – Explosive Power
Originally released in 1994, the Babolat Pure Drive has been a global bestseller for decades. Versatility is one of the reasons the Pure Drive has been so successful – ideal for professional and amateur players. The Pure Drive is the definite choice for players wanting explosive power (even on off-center shots) and excellent stability at impact.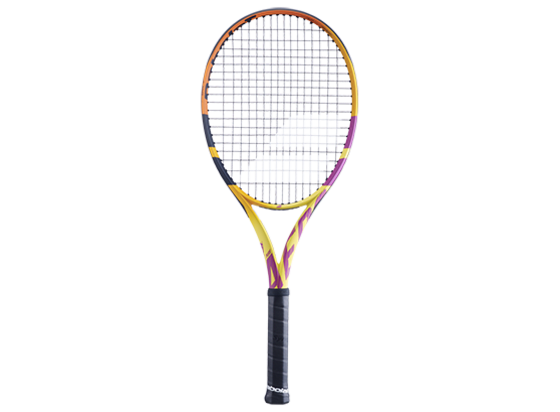 Pure Strike – Sharp Control
Nothing compares to the feeling of hitting the exact spot you aimed for. The precision control of the Pure Strike racquet is designed for aggressive and powerful gameplay, combining dynamic control and pure feel for unprecedented response to own the court with every shot.