For many fans, the battle to correct gender bias is one of sport's greatest challenges. And equal treatment of women and men in padel has an eloquent advocate in Victoria Iglesias.
The 27-year-old Spaniard admits that "things are better than they were when I started," but she adds: "If this sport were more open to change, then it'd have changed more by now.  We've got to keep fighting, and it's never an easy fight."
Partly thanks to an estimated 40 per cent of padel players at all levels being women and 60 per cent men, padel has always enjoyed a reputation of being an inclusive sport with a good gender balance. Iglesias, now an experienced World Padel Tour player, recognises this, though she says there is still a long way to go.
"Padel possesses some innate advantages," she says, "because, for one thing, games up to amateur level can be played by men and women together, and they often are. One thing I've always liked about padel is that it's easy for all people to enjoy themselves, which is the most important thing.
"I come from Carmona, a small town in Andalusia in southern Spain, and these days I play all over the country and beyond. But ever since I began and wherever I go, I can see that padel brings people together, no matter their age, ability level – or gender."
Apply flexible amateur formats to professional padel
Despite this, Victoria wants to see grassroots padel's more flexible amateur formats applied to the professional side of the sport. "You can't play in mixed teams in the World Padel Tour," she points out, "and it would be good if the WPT did include that as a new category within its competitions."
Victoria got into the sport thanks to encouragement from all sides of her family, both male and female. "I started out with tennis as a young child. I quit at 18, but my mother and sister play padel, and, together with my father, they told me I should try it as well."
She moved very quickly through padel's lower categories, starting to play seriously at 21, in Seville – the capital of Andalusia – and quickly progressing.
"Tennis and padel are very different sports, but there are certain strokes that are common to both, and that helped me, I think."
However, as she advanced towards higher levels of professional padel playing, she became increasingly aware that "on and off the circuit, there is a considerable gap between what men and women can earn." She says male professional padel players tend to earn three times as much as their female counterparts, and she feels redressing that gender imbalance will be an uphill struggle, given how deeply ingrained it remains even in historically established sports like football.
"Football has had decades of significant financial investment, which has helped boost its prestige and provided a secure environment for top players to improve their individual skills. But all through those years, women's football was an afterthought."
On-court warrior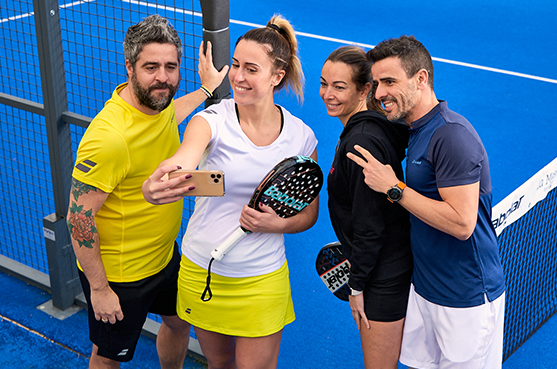 Victoria is applying what she calls a similar 'warrior spirit' on the court, too, where she and her new padel partner Aranza Osorio, from Argentina, have made it into two semi-finals and two quarter-finals this year.
"We work well together because we have the same objectives and the same kind of character, she says. "For one thing, we're both absolutely determined to make it into a final this year."
The battle for gender equality in padel, and sport in general, may take longer but Victoria Iglesias is adamant she will not give up on the struggle. "We all train the same, work the same  and travel the same, and we all have to pay two coaches, one to advise on technical and tactical skills, and one for general fitness, so there's no difference between what we have to do.
"There's a long way to go, and we can't expect it all to change in one fell swoop. But if we work on it little by little, hopefully those changes will come."