There's no denying it: padel just keeps growing.
And in the times we're living in, this new sport is becoming a form of escape for many. The number of players discovering the joy of padel is increasing. Players love the feeling that comes with playing padel, but above all, they like to feel like professional players out on the court. Even when playing with friends, once the racquet's in your hand, you're in competition mode.
For those who compete or play at an advanced level, Babolat has created the Veron range.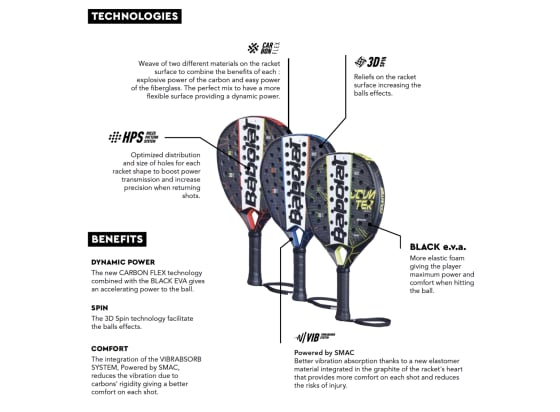 A brand new racquet made from CARBON FLEX technology, a mix of carbon and glass fibres. When combined, these two materials provide several advantages: the explosive qualities of carbon and the effortless power of glass fibres. The perfect balance for a flexible surface that provides dynamic power.
The Veron range consists of three racquets: the Technical Veron, the Air Veron and the Counter Veron. These models have been created based on the typology of players we've established through our studies, analyses and observations of players and the way they play.
There's one thing they all have in common: DYNAMIC POWER. Thanks to our Carbon Flex technology, the power of carbon is now accessible to all players.
With its pinpoint precision, the first racquet in the range, the Technical Veron is helping you with your smash.
The Air Veron provides optimal handling, making it the perfect racquet for attacking from all directions.
Finally, the Counter Veron is a racquet with high tolerance, helping you turn the game around even when you've had to withstand tough attacks from opponents.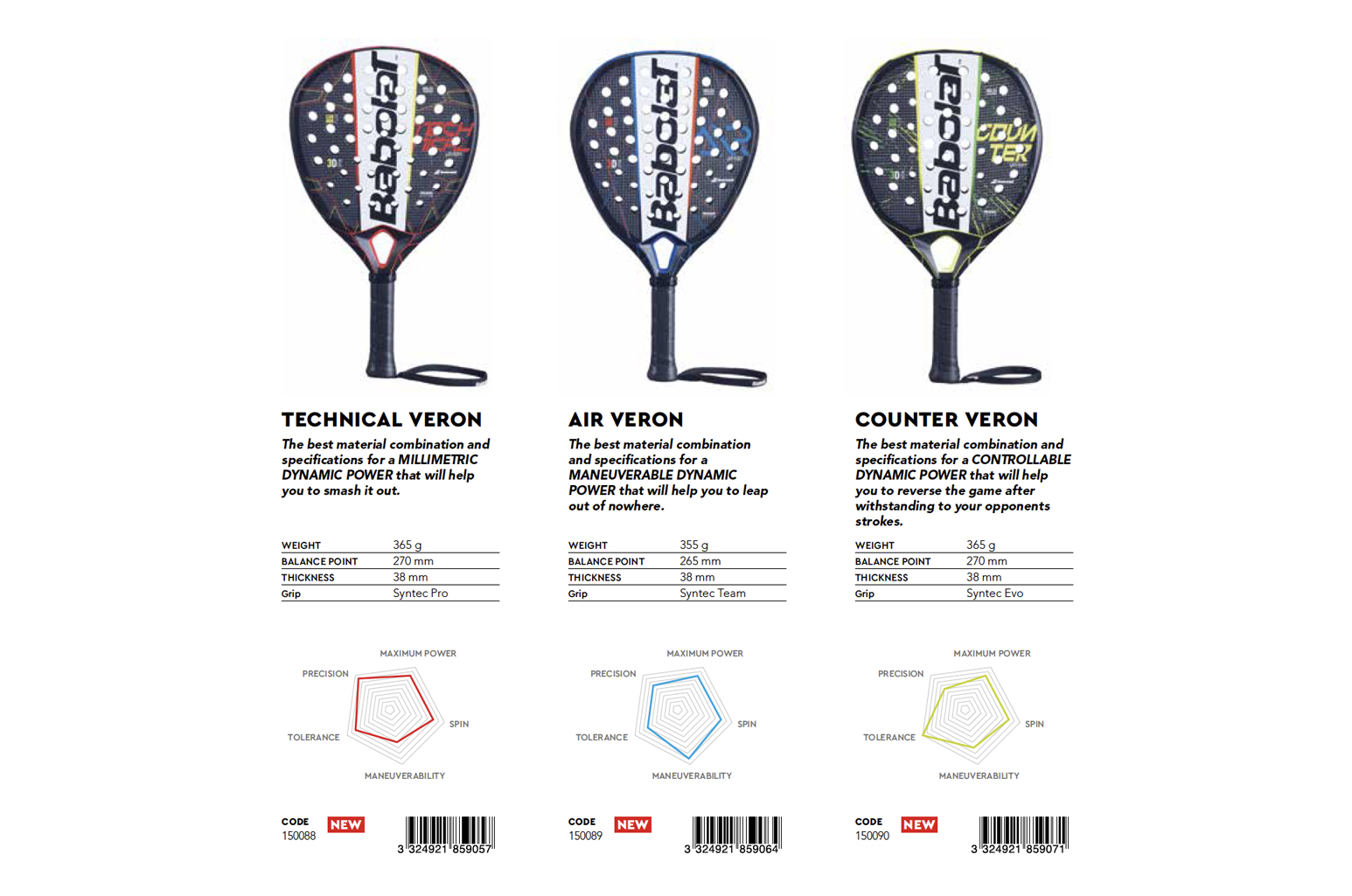 Features of the Veron racquet range:
–    Black E.V.A. rubber: Improved elasticity for maximum power and comfort with every hit. Feel the acceleration and control from the moment the ball touches the racquet.
–    3D Spin: Ridges in the surface of the racquet which help players maximise ball effects.
–    HPS technology: Distribution and size of holes are adapted to the shape of the racquet for maximum power transmission and precision when returning shots.
–    Vibrabsorb System, powered by SMAC: Optimal shock absorption thanks to the new elastomer material integrated into the graphite in the core of the racquet. Provides maximum comfort with every hit and reduces the risk of injury.
Bastien Blanque, professional padel player and number one in France, has opted for the Technical Veron racquet.