Growing up in the tiny archipelago in the Indian Ocean that is the Comoro Islands, Aska Moilimou never thought that, one day, he would be featured in an advertising campaign alongside a multiple Grand Slam winner. But the tennis coach and tester of Babolat racquets has certainly come a long way…
Aska first moved to France in 1990. He had been ranked at the highest national level back in Comoros and was immediately asked by his local club in France if he would give lessons, even though he didn't have the requisite French teaching credentials at the time. He went on to divide his time between two clubs, but since 2010 he has been the main coach at the Tennis Club de Sathonay, not far from Lyon.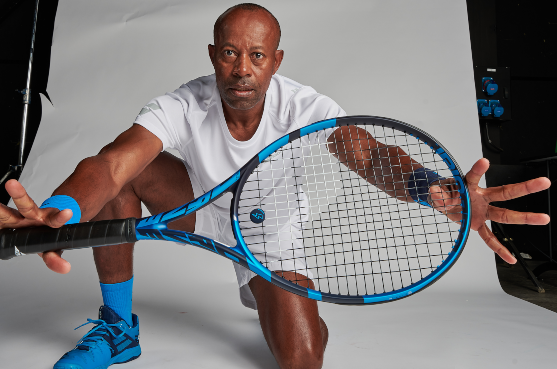 A day in the life of a tester
His contact with Babolat came almost as soon as he had arrived in Europe. "I had a coach at the time who asked the person in charge of Babolat testing whether I could be part of the tests for the first ever Pure Drive," he explained. "I played with a Pro Kennex at the time but I was comfortable with the Pure Drive straight away because it had a thinner profile, similar to what I was used to."
Those tests have continued over the past three decades, with Aska becoming such a part of the Babolat family that he featured in the advertising campaign for the Pure Drive alongside Garbiñe Muguruza in 2020. "Today I've actually got a lot of testing on. At 10 AM I'm testing balls, which we only do around two or three times a year, then I have a video meeting at 2:30 PM on kids' racquets and strings. The tests usually have three elements – a warm-up with our own racquets, then we test the product we've been given – either racquets or strings – then we finish off with feedback.
Blind tests with blacked-out racquets
I couldn't recommend any other racquets because, ever since my first test, I've never touched another racquet! Sometimes during the Babolat tests, they bring racquets from other brands, and we often do blind tests with racquets that are blacked-out, so you don't know what you're playing with. I have friends who are more curious than I am and they can tell the brands apart. I can't do that, but if you black-out a Babolat racquet and let me play with it, I'll know which one it is right away."
Aska has used a number of different Babolat racquets throughout his amateur playing career. "All the trophies I've won have been with the Pure Drive. I won the Lyon regional championships which got me through to the French Championships, and that had always been my dream – playing at Roland-Garros. I played for a year with the Pure Aero and one year with the Pure Strike, but otherwise it's always been the Pure Drive.
The Next Grand Slam Champion?
"My students – adults and kids – all seem to like Babolat. I've got 140 kids at the tennis school – the youngest being a three-year-old – and 70% play with a Babolat, with lots of them having the Junior Nadal. Among the adults I have 48 players in group lessons and I'd say 60% have a Babolat. The number one at the club plays with a Pure Drive and more and more people seem to be buying the latest version of the racquet. It looks good as well, so the kids like it!"
Speaking of kids, Aska has a two-year-old of his own, and regularly takes her out onto the courts before he starts coaching in the afternoons. She already has a reputation on the tennis circuit however, after her father attached a mini-tennis ball to a piece of elastic at the top of her baby bouncer when she was just six months old and gave her a miniature Pure Aero. His daughter hit the ball every time and the video he took went viral.
"I didn't dare tell my wife," said Aska with a sheepish grin, "but Babolat loved it – they sold a lot of mini-racquets after that!"