When tennis shut down in March because of the coronavirus pandemic, China's rising tennis player Xinyu Wang found herself with a lot more spare time than usual. The result was cheesecake and banana bread, laced with a few oats.
'I got to spend a lot more time with my family,' said the 18-year-old, a former second-ranked junior player who is considered one of China's biggest talents. 'I have been trying so many things that we don't have time to do when we are travelling, such as yoga and baking. And I am also learning how to drive.'
Wang's specialty as a baker is cheesecake and banana bread, but with an earthy twist. 'I mix it with oats, so it sounds a little bit healthier!'
Wang is an upbeat and smiley teenager. She was born in Shenzen to a basketball-playing mother and a tennis coach father, so she seemed destined to become a professional athlete. 'I started to play tennis when I was six,' she said, but it was not her father who coached her in those early years – he didn't want to coach his daughter, so he found a friend to do it instead.
'He just wanted somebody else to bring the sport to me,' she said, 'so I would not be playing tennis because of him. If I really want to play, it's because of myself.'
At the age of nine, Wang had one of those experiences that can make such a difference to a youngster. Her heroine was China's top player Li Na, and she watched on TV as Li became the first Chinese player to win a Grand Slam tournament when she won the French Open. And in Li's hand was a Babolat Pure Drive, the racquet Wang plays with today.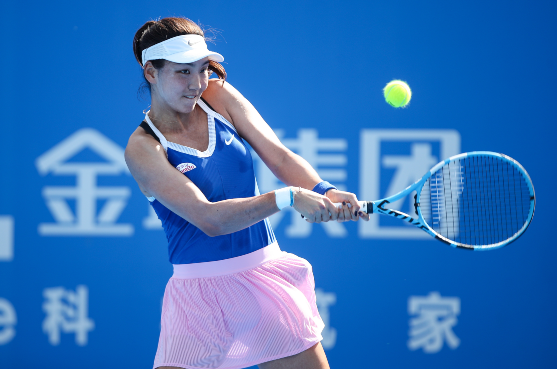 Her love for tennis was real and after a few years, Wang's father, Peng Wang, who was head coach of the China national women's team, took over. He was also working with the Shenzhen team, so Wang went there after school, from 5pm to 7pm, when he had time for her on court.
Two years ago, Peng Wang and his wife decided to fully dedicate themselves to their daughter's pro career. Wang's mother worked after she stopped playing basketball in her early 20s but retired two years ago 'because she wanted to spend more time with me and travel with me so that she can take care of everybody. She is very sweet.'
The game of the 1.80 metre-tall Wang is built around a big serve and flat groundstrokes. Since turning pro three years ago, she has steadily climbed up the rankings, and was the world No. 140 when the tennis tour was suspended. She is the youngest Chinese player to compete in the Australian Open and US Open main draws.
Although Wang is only just getting started on the women's tour, she has already impressed some top players. Two-time Grand Slam champion Garbiñe Muguruza was full of praise after needing three sets to overcome her in the first round of the Shenzhen Open in January. 'I think she has incredible potential, she hits the ball very well,' the Spaniard said after the match. 'She's a very young player but [can be] very optimistic about her future if she keeps working.'
Wang recalls watching her famous countrywoman, Li Na, win the Roland-Garros title on television in 2011, when she nine years old. 'Li Na has always been a role model to me,' said Wang. 'What I really admire about her is not only that she is the first Chinese tennis player to win a Grand Slam [singles title], but also because of her strong mentality. She is always so aggressive on court.'
When asked about her career goals, Wang said: 'I want to win a Grand Slam and I want to be a player like Li Na, that's my dream. That's what I am working for.' For this year, 'the first goal is to stay healthy and safe. I think that's the goal for everybody.'