Don't be deceived by a world ranking which indicates Aneta Niklas has only one win on the BWF tour. She has many victories in the wider world. And she is arguably the most inspirational player in Poland.
Aneta is the founder of a badminton school, the creator of a badminton league, and the organiser of self-help groups for women. She is entrepreneur, social leader, and charismatic therapist all rolled into one, and she is still only 22.
She had been considering a professional badminton career when life's tangled paths took her on new journeys, ones of radical self-healing. Their destinations were influences which went far beyond herself.
First was her badminton school, SmashBad, a creation which grew from private difficulties. "I was asked to trial for the national team," she reveals, "but I became afraid of that and refused to go." She ended up not playing, and with no funds.
So she and her soon-to-be husband looked around and found she could teach for three hours a week and make some money. "I knew a lot of people – and people really liked me," she says, as if still surprised at this. "I worked for other people to create something special."
From this grew the badminton league. A small group of women improved sufficiently to want to compete. They started with four players, but soon it was eight and before long it was many more.
Guys just want to compete, women need support
And from that emerged Women for Women, a movement which has grown within a wider background of very visible gender-based conflicts in Poland. "It was so much better if it was separate from men," Aneta observes. "Guys just wanted to compete. I had the feeling they needed to do more than just play.
"Women needed support with the mental part. So I did sessions on motivation. I invested more time trying to help with diet."
This included activities she herself loves – cooking, yoga, dancing. "I want to show it is really worth fighting for yourself, for your dreams," she said.
Aneta developed so many activities that she needed to remind herself that she was still a practising athlete – one of Babolat's elite badminton players. "I've always had dreams of a Polish national trophy," she said, "and I haven't given up on them."
How does she manage it all? "I am definitely a crazy person," she answers with nice tragi-comedy. "New ideas come into my head which I try to implement. I assume life comes only once and that it is worth fulfilling yourself, and not being afraid of failure."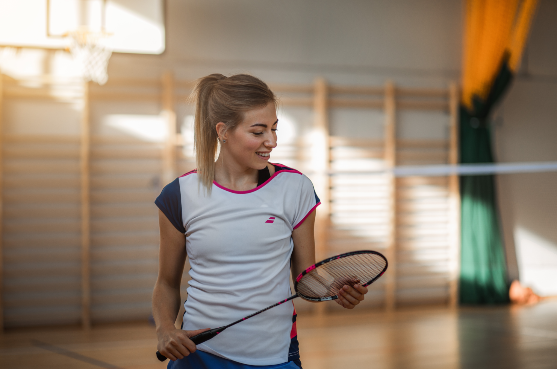 Stop complaining and new positive energy appears
Such bold views began forming in her pre-school years – something she has explored academically, studying early childhood education at the University of Opole. As a little girl Aneta liked eating but wasn't very active. She became overweight, and struggled. "So my mother asked a teacher 'please try and find a sport for her'."
Aged just nine, Aneta began badminton twice a week. Half a year later it was four times a week. The more involved she became, the more the kilos dropped off, and a healthy body/mass index was quickly restored.
She later recognised that "the moment I stopped complaining about a situation and made peace with it, a new positive energy appeared – and with it new ideas." She learned that "we attract what we focus our mind and thoughts on … the subconscious receives signals about those desires or needs … and we begin – perhaps not consciously – to work towards achieving what we want.
"This way, many of us can gradually to take more control of body and mind. Building an interior psyche as well as an exterior physique increases our capabilities, and makes us more self-reliant."
It was with these revelations that Aneta developed a philosophy to cope with stressful situations – even with pandemic lockdowns. Earlier this year she herself had to recover from Covid-19.
She already knew that crises can become opportunities within which to develop, to listen to yourself, and take care of inner peace. And that after the storm, the sun will often come. "So let's fight for our well-being! It's going to be OK, stay strong!"
Aneta Niklas' exhortation thus becomes a rallying cry during difficult times, perhaps for all our times – probably for everywhere.