Twenty years ago, Stéphane Houdet dreamt of becoming a professional golfer.
The French veterinarian had been struck by a car in 1996 while touring the capitals of Europe with a friend by motorcycle, and eventually lost his leg. After the accident, Houdet took up golf. He excelled, and five years later, he was the top-ranked disabled golfer in Europe.
A chance meeting with the Dutch football star Johan Cruyff at a golf tournament in 2004 would change his life.
'I was playing golf and I didn't know anything about wheelchair tennis,' Houdet said. 'Cruyff, a three-time European Footballer of the Year who died in 2016, was a special character, full of philosophical one-liners about life and sports, such as "Every disadvantage has an advantage."
'That became my motto, too,' added Houdet, who told the legendary Ajax and FC Barcelona forward and coach it was his dream to organise a world golf tour for disabled people. 'He thought it was such a nice idea that he offered to work with me at his foundation in Barcelona.'
The Cruyff Foundation was already heavily involved with wheelchair tennis, and when Houdet started to work on the golf project, Cruyff suggested the Frenchman take a look at wheelchair tennis as an example of a well-organised sport. For Houdet, a former junior tennis player, it was love at first sight.
'I said "Wow, the organization is fantastic, that's the game I was playing as a kid, it was my first sport – I want to try, I want to play".'
Although Houdet ended up playing on the European Golf Tour for the Disabled, he focused fully on tennis after the decision was taken in 2005 to leave golf out of the Paralympic program for the 2012 London Games.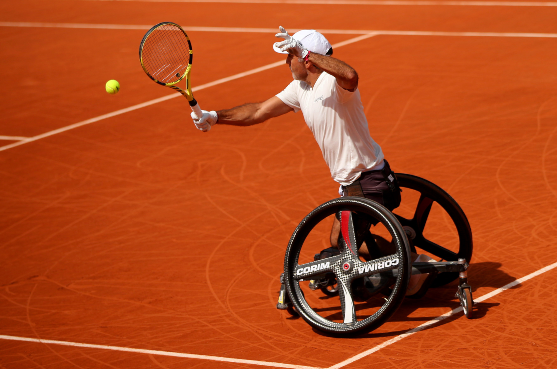 His rise up the tennis wheelchair rankings was nothing short of meteoric. 'I met Johan in 2004, I started to play wheelchair in 2005, and I won a gold medal in doubles in 2008,' he says. He went on to reach the No. 1 ranking in both singles and doubles, win four Grand Slam singles titles, and 18 major doubles titles. He clinched another Paralympic doubles gold medal at the Rio Games in 2016, after a silver in singles and a bronze in doubles in London 2012.
 Not long after his victory at the Paralympics in Beijing in 2008, Houdet was competing in a tournament in Amsterdam when Cruyff, who had come to his home town to watch a football match, paid him a visit.
'I had my gold medal in my bag, and I said to Johan: "This one is thanks to you because without you, I wouldn't have switched. That was the beginning of a new story for me."'
Born in Saint-Nazaire, western France, Houdet is a father of four children and a proud patriot, which extends to his choice of tennis equipment. 'I am very happy and proud to work with Babolat: a family with strong values and a French company,' said Houdet. 'They are not just great racquets, but we want to promote access to sports and the French flag all over the world.'
Houdet turns 50 in November, yet he very much continues to write his own story. Although he wanted to retire in 2018 to fully dedicate himself to his job in the French army (he was working on a sports rehab programme for soldiers), winning the US Open in 2017 and France's successful bid to host the Olympic and Paralympic Games in 2024 changed everything.
Houdet quit his army job to fully focus on his home Paralympics. 'No matter what I have won in the past,' he says, 'I am looking to improve and be better in all aspects of the game and have fun. I still have a lot of pleasure being on court.'
The wheelchair Paralympic tennis event will be held on the clay courts of Roland-Garros, which would be a fitting stage to end a glittering career.