If badminton is known to be good for one's health, it has done more than that for French born Loïc Meuriot: the sport quite simply saved his eyesight.
"One day, six years ago," he recalls, "I was so bothered by the fact that the shuttlecock kept disappearing while hitting clears that I made an appointment with an ophthalmologist. He did some tests and was quite horrified by what he saw. He told me that if I had waited just a few weeks more to see him, I could have gone blind. When I heard that, I fainted in his office"
Badminton had been in Loïc's life for a while – like most kids, he had started playing in his early teens. "I was playing handball at the time, but a friend asked me to join and I really enjoyed the new sport right away. My good coordination helped me improve quite quickly." He played with a Babolat racquet from the beginning.
But then his family moved to a smaller city, with no badminton clubs nearby. "I was miserable and missing it so much that my mum agreed to drive me back and forth to the closest club, Saint Maur in the suburbs of Paris, which was still quite far. I really felt good in that club. I started travelling around France, playing in big tournaments with the team".
Bothered by lights and not reading trajectories
His level was not good enough to be a top shuttler, but his studies in the audio-visual branch and later a diploma as a badminton coach started combining for him to stay around the badminton world. "As time went by, I played less competitively," he says. "I often felt frustrated because in spite of my good shape, I didn't seem to make progress. I would lose against players I would normally beat. I was often bothered by the lights in halls, or having difficulty reading the trajectories, hence always late to hit the shuttle. My friends would make fun of me, saying I was just taking excuses for my losses.
"I had no idea that my eyesight was already going bad. I was blaming stress or other things, but as I wasn't a big fan of doctors, I didn't want to have my eyes checked. It was only a few years later that I realised I had to see a specialist."
The ophthalmologist told Loïc he was suffering from an acute Pigmentary Glaucoma, which could l eventually lead to total blindness if not caught early enough. "My world collapsed. I thought about my kids who were still very young and I might not see them grow up. That really affected me. He told me to go right away to a pharmacy to get some medication and come back an hour later to see if my tension was going down – it was skyrocketing at 47, which is way, way too much."
Eventually, Loïc had to have an operation on each eye to bring down the tension before the optic nerve was too damaged. "As of today, I have lost 50% of my eyesight because of the glaucoma, and I've had to register the handicap in order to protect myself for my work as a video producer and a badminton coach. Right now, my handicap is recognised as a 30% incapacity," says Loïc.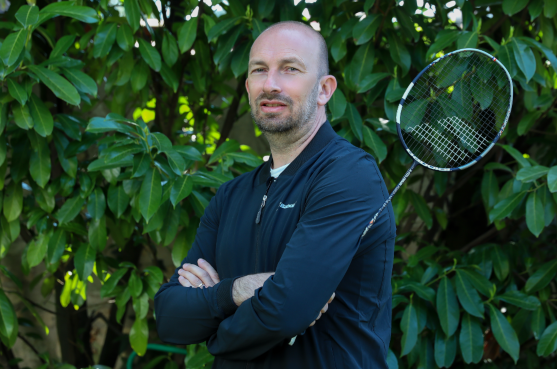 Exercising the eye
"I feel it's important to talk about this issue as many people are not aware of this disease, which is quite insidious as it comes slowly. Badminton is a great way to notice it, but I've read in some articles that it is also a very good activity to exercise the eye in order to prevent different eye diseases.
"Also, I suspect there are quite a lot of players who suffer from this – with a real disadvantage on court – and some dedicated competitions could be organised for them."
If Loïc's eyesight is still suffering from glaucoma, his inspiring vision for the sport remains spotless. He has become one of the most creative figures in the badminton business, in charge of many video programs, among them the well-known 'Esprit Bad' ('Badminton Spirit') which is the monthly show produced by the French federation.
He is also heavily involved in the Charity 'Solibad, Badminton without Borders' as its vice-president. Some of the foundation's programmes look after children with disabilities. A good way for Loïc to realise that his eyesight problem, no matter how bad and frustrating it is, is not so bad compared to what many children go through in their daily lives ….