A partnership of two brands that honor, innovate, and drive the game: Wimbledon, the pinnacle tennis event since 1877 and Babolat, the tennis lover's equipment expert since 1875

Babolat is an Official Partner of Wimbledon, supplying tennis racquets, footwear, bags and racquet servicing
Babolat's team of international racquet-servicing experts on hand at The Championships, with more than 4757 serviced during the event in 2022
Babolat equips players of its pro team with shoes designed specifically for grass courts at Wimbledon, and also Wimbledon ball boys and girls and Wimbledon ground staff. That is just one of a handful of details in the relationship that makes Babolat an Official Partner of Wimbledon. And this year the tennis specialized family-owned French company celebrates 10 years of working with the world's most prestigious tennis event.
Babolat began its association with The Championships in 2013.  To properly service players at The Championships (including the more than 100 Babolat players in the different draws: gentlemen's and ladies' singles and doubles, mixed doubles, boys' and girls' singles and doubles, wheelchair competition, and invitation event)  with racquets and strings according to their needs, Babolat's official racquet service at Wimbledon features a team of international racquet servicing experts who prepare the racquets of the top ATP and WTA players, carefully and meticulously aligned to their specifications.
Babolat also designs the official Babolat Wimbledon collection, featuring a special version of the iconic Babolat Pure Drive racquet, a sports backpack with racquet holder, and range of tennis footwear including grass court models, all equipped with Michelin outsole. During The Championships, Babolat Wimbledon footwear is worn by Babolat Pro Athletes playing the event as well as on court staff: ball boys and girls at Wimbledon, and ground staff.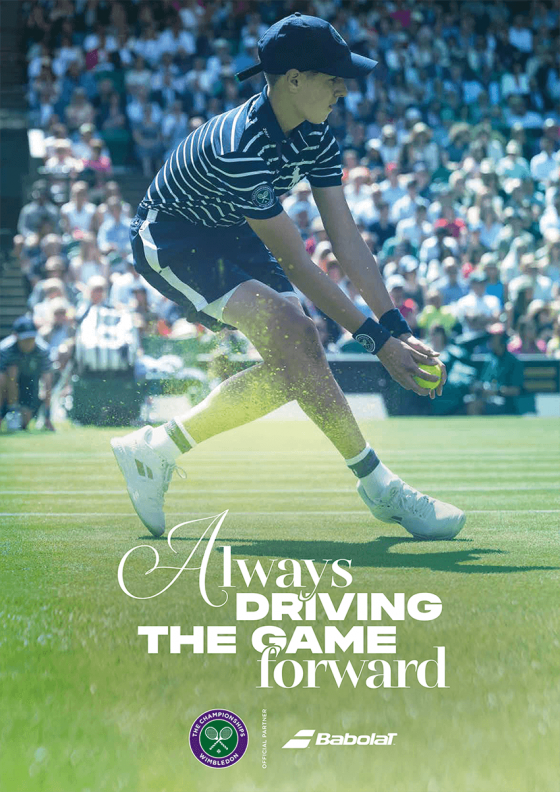 Eric Babolat, current CEO of the company and the great-great-grandson of Pierre Babolat, tennis string inventor, says, "As part of our constant evolution over nearly 150 years, Babolat has always sought out trusted partners who share our pursuit of the highest quality. It has been an honour and a privilege to work with Wimbledon brand and The All-England Lawn Tennis Club Team over the past 10 years, and now to count Wimbledon as partner brand. It feels like cooperation between two well matched Tennis loving enterprises, and we look forward to it developing."
Usama Al-Qassab, Marketing and Commercial Director at the All England Club, added, "Together the relationship between Wimbledon and Babolat has developed from an Official Licensee nearly a decade ago, to and Official Partner and Official Stringer of The Championships.
"This transition reflects Babolat's world-class reputation for innovation and the highest quality strings as Official Stringer for The Championships. Through our partnership, fans of Wimbledon can perform
to their very best and look the part all year round via the range of Wimbledon branded Babolat products available through the Wimbledon Shop."
Both entities trace their history back to the 1860s and 1870s. Wimbledon was founded as a croquet club, but when the rules of lawn tennis were set down in 1874, it used some of its croquet lawns for tennis, and staged the first Championships in 1877. Babolat was originally a company processing natural gut for sausage skins, surgical thread, music strings, and archery. In 1875, the brand expanded its range by inventing the first tennis racquet string.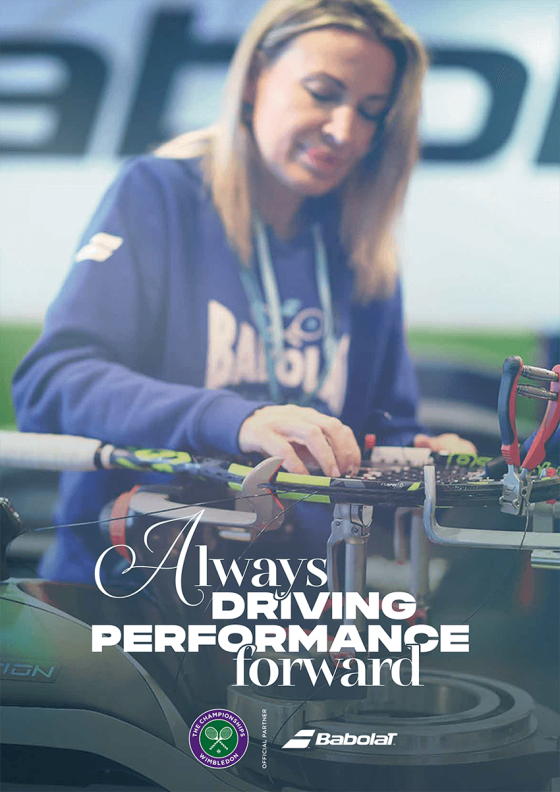 About Babolat
Founded in Lyon, France, in 1875, one year after the rules of tennis were established, Babolat is the oldest international company specialized in racquet sports. A pioneer of innovation, Babolat invented tennis strings in 1875 and launched its first racquets in 1994. Family-run for five generations, Babolat is an innovative brand providing a complete range of equipment for all players of tennis, badminton, and padel, including racquets, strings, shoes, balls and shuttles, bags, apparel and accessories. Babolat equips many tennis, padel, and badminton players with racquets and strings. Babolat also partners with 20,000 clubs in some 150 countries around the world, as well as legendary tennis brands including Wimbledon.
About Wimbledon
The Championships, Wimbledon, is the oldest of the four tennis Grand Slams and the only one played on grass. Managed by The All England Lawn Tennis Club and staged on the Club's Grounds, Wimbledon has evolved from its origins as a private members' croquet club in 1868, to one of the world's biggest annual sporting events and one of the most respected brands in sport.